AWANA – 6:30 pm Wednesdays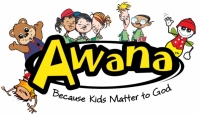 Come and experience the fun, faith, and fascination of Awana Clubs!
Children learn more about their faith in God through an exciting time of worship and games each Wednesday night from 6:30-8 p.m. during the school year. (The church also offers a Wednesday night Bible study for parents and a nursery for small children during this time period). Awana Club members work through a challenging, creative, yet fun Bible-based curriculum where they can earn points, badges, and most importantly, grow in their faith as they form new friendships. They also enjoy theme nights like "crazy hair night," "cardboard box movie drive-in night," and a yearly talent show. For more information, call our AWANA commander Kristy Keahey at 720.473-2526. We hope to see you on Wednesday night!