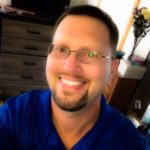 Brian Keithline,  Associate Pastor/Children's Pastor
work: 303-366-3620
Email: brian@aurorahillschurch.org
A recent graduate of Denver Seminary with an M.Div. degree, and with a background in Journalism, Brian has joined the staff of Aurora Hills Church as its associate pastor. For the past three years, Brian has volunteered his time and efforts with the children's ministry, which includes putting his writing and artistic skills to work to help launch a puppet skit team. The back wall of Pastor's Hall even features a large cartoon mural to help inspire kids to have fun and to grow in their faith. Because of Brian's writing skills, he has custom-tailored the Aurora Hills Kids' curriculum to focus on specific topical and expository themes, and to integrate each Sunday's service with a period of worship and singing, a period of prayer time, a period of scripture reading, and interspersed periods of games, activities, crafts, snacks, and — did we mention the indoor bouncy house?!
Brian is a Colorado native who also has spent time in the Buckle of the Bible Belt — Nashville, Tenn. In 2014, he finally found "west" again, and headed back to those familiar Rocky Mountains to work on his Master of Divinity degree at Denver Seminary.